Engineering Virtual Exchange 2022
IEEE Student Branch of Universiti Putra Malaysia (IEEE SB UPM) in collaboration with Putra International Center (i-Putra) and Computer and Communication Systems Engineering Club (CCSE UPM) will be organizing the Engineering Virtual Exchange 2022.
Details of the event are as follows,
Date : 17 December 2022 (Saturday)
Time : 10:00 a.m - 4:30 p.m (MYT / GMT+8)
Venue : Zoom Meeting (link provided after registration)
Requirements : Current university students

1-day virtual event is packed full of excitement with a mix between introductory-level STEM webinars and unique Malaysian cultural programmes such as:
•Agricultural Robotics At A Glance
•4IR-Future Proofing Graduates
•Welcome to Malaysia Truly Asia Virtual Tour
•Let's get to know Universiti Putra Malaysia!

Registration is FREE OF CHARGE. University students from all majors to join!
REGISTER NOW at https://tinyurl.com/EVEX2022
---
Tübingen Virtual Intercultural Pre-Package (TÜ-VIPP)
The TÜ-VIPP program (https://uni-tuebingen.de/de/180552) is a 10-week online course program which prepares students perfectly for a later stay abroad, possibly at the University of Tübingen (pre-arrival package). It is open to students from all over the world, free of charge, and strengthens their employability and global awareness. Also, students can take TÜ-VIPP courses alongside their studies as a semester course.
TÜ-VIPP offers courses on German language and culture, topics such as Sustainability, Politics, Intercultural Communication, Identity, Culture and Human Rights as well as other language courses (English, Wolof, Kiswahili). This way, TÜ-VIPP provides project-based learning opportunities – worldwide and in real time. In addition, students receive ECTS and have the chance to be nominated for a scholarship. Students can choose up to two courses plus the Buddy Program.
Application deadline: December 18, 2022
Dates of classes: January 30 - April 6, 2023
Program fee: Free of charge.
ECTS: up to 4 per course.
Important info: Students will be able to transfer all ECTS/credit points gained in any TÜ-VIPP course to their exchange semester at the University of Tübingen in 2023 or 2023/24.
---
ITMO Winter Schools 2023

---
AUA Online Education Fair 2022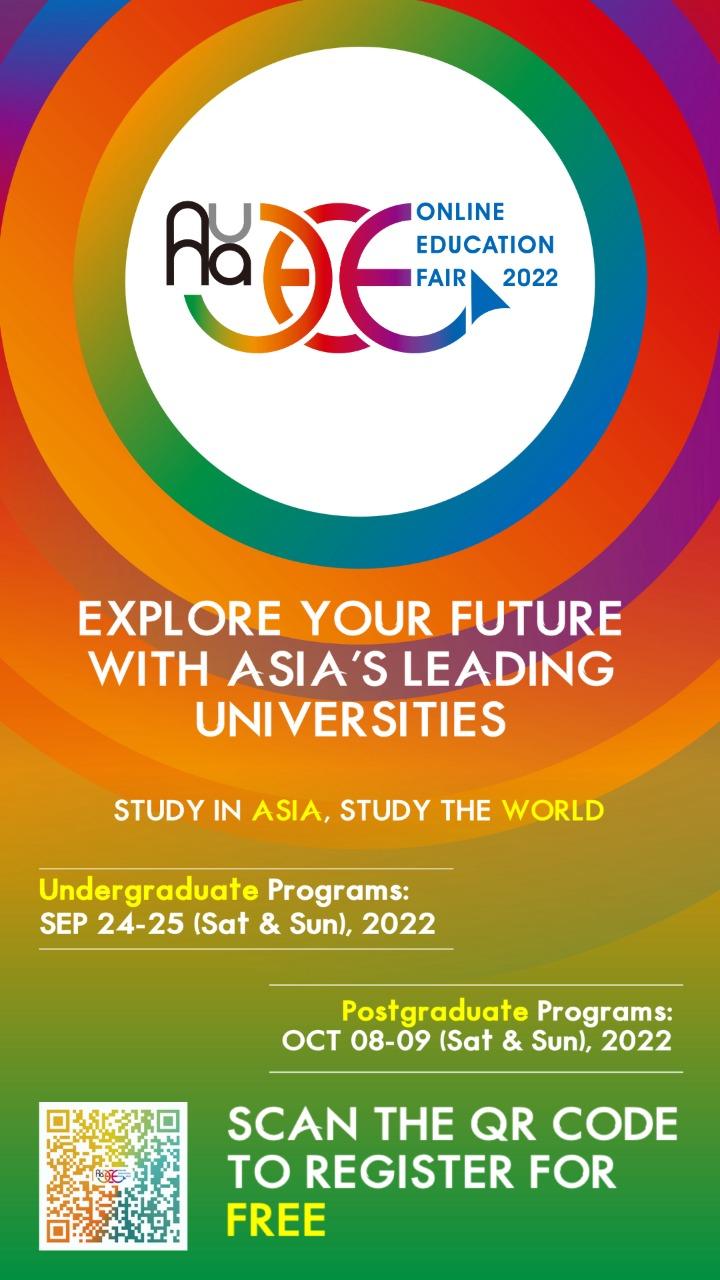 This event is being held for the second time. It is intended for undergraduate or postgraduate students who want to
know more about the academic program of the best Universities in Asia, especially AUA member universities such as:

Chulalongkorn University (Bangkok, Thailand)
2. The Hongkong University of Science and Technology (Hongkong, China)
3. Indian Institute of Technology Bombay (Mumbai, India)
4. King Saud University (Riyadh, Saudi Arabia)
5. National University of Singapore (Singapore)
6. Nazarbayev University (Astana, Kazakhstan)
7. Peking University (Beijing, China)
8. Seoul National University (Seoul, South Korea)
9. Tsinghua University (Beijing, China)
10. United Arab Emirates University (Al-Ain, United Arab Emirates)
11. University of Indonesia (Jakarta, Indonesia)
12. University of Colombo (Colombo, Sri Lanka)
13. University of Malaya (Kuala Lumpur, Malaysia)
14. The University of Tokyo (Tokyo, Japan)
15. University of Yangon (Yangon, Myanmar)
---
Virtual Conference "Academic Writing Center: Mitigating Students' Writing Challenges"
Institut Teknologi Sepuluh Nopember (ITS), Surabaya, Indonesia is inviting all students, lecturers, as well as staffs to join Virtual Conference "Academic Writing Center: Mitigating Students' Writing Challenges".
The event is supported by Regional English Language Office (RELO), U.S. Embassy, Indonesia.
The event will be held on Friday, 20th May 2022 at 08.30 AM to 03.30 PM (GMT+7).